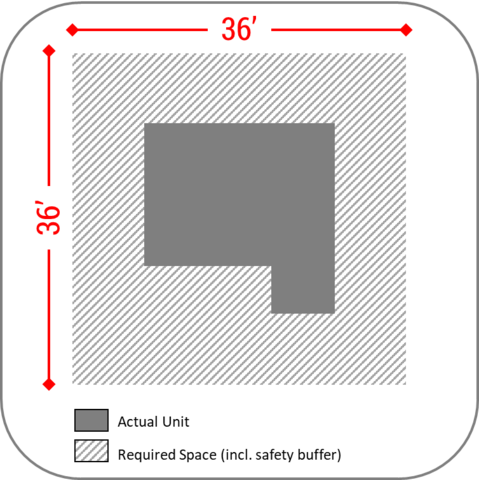 Site Requirements for Big Combos
Actual Size: 20'Lx20'Wx16'H
Required Space: 36'Lx36'W
Outlets: 1 outdoor GFCI outlet




Setup Surface:
Unit must be on all grass (unless indoor) - no dirt, sand, or gravel.
Safety buffer around unit (denoted as striped area in diagram above) may be concrete but must be free of obstructions (eg pools, fences, trees, firepits, trampolines, etc), but unit itself (denoted as solid gray area in diagram above) must be on all grass.
Please ensure that any doggy doodoo, sticks, rocks, and excessive leaves and/or grass clippings are cleared prior to your scheduled delivery time.
Overhead:
Overhead risks, such as powerlines or tree branches are prohibited across the entire Required Space.
If indoors, ensure that you have minimum clear ceiling height at least 1' higher than the height of the Actual Size noted above.
Electrical Requirements:
Outdoor GFCI electrical outlet within 50' of setup area.
Outlet must have at least 15amps available and not be shared with any other item or will likely trip breakers and disrupt your event.
Ahead of your event date, please ensure that your electrical outlets are operational.
Water Source (if renting a water slide / wet unit):
Regular garden hose that will reach the setup area plus an additional 10-15'.
Ahead of your event date, please ensure that water source / hose is operational.
WELL WATER / RUST WARNING: IF YOU ARE ON WELL WATER, BEWARE OF ANY RUST STAINING AND ENSURE THAT YOU DO NOT ALLOW RUST STAINS TO SET/REMAIN ON THE UNIT.

FAILURE TO MEET ALL SITE REQUIREMENTS WILL RESULT IN A NON-REFUNDABLE CANCELLATION OF YOUR ORDER UPON DELIVERY.
In the event you have any questions or concerns about the site requirements please give us a call at 833-554-8853 or email us at info@fivelittlemonkeys.fun.