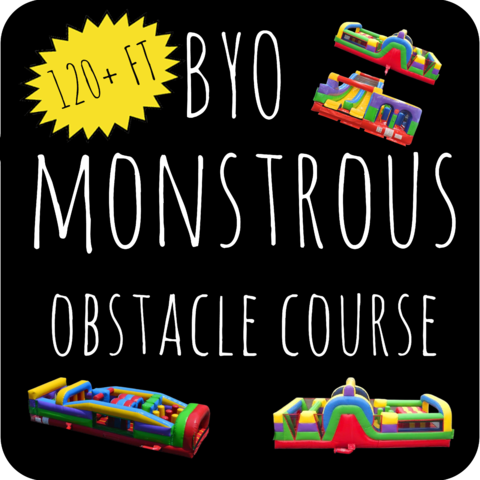 Monstrous 120'+ Inflatable Obstacle Courses
Actual Size: MONSTROUS!
Required Space: TBD
Outlets: Generator Likely Req'd
Age Group: Height: Min 42" | Age: Min 5yrs
Supervisors Required: TBD




It's a bird! It's a plane! It's... your own creation of a MONSTROUS 120'+ Inflatable Obstacle Course Rental!
Looking to create a HUGE surprise for your next event? Well, you've come to the right place! Five Little Monkeys has created a Build Your Own Inflatable Obstacle Course Rental! Call us today to start your building and booking process! With this rental option you can create an obstacle course that is 120 ft or longer!! Challenge your guest to see how long they can run, crawl, squeeze, slide and more through this build your own Monstrous 120'+ Inflatable Obstacle Course Rental!
Feel safe when your little ones maneuver, climb and slide on the inflatable rental: this inflatable obstacle course has many safety features, including full length containment walls around the perimeter of the course as well as between the double slide, providing complete separation from those going through the course and those climbing and sliding. The slide loading deck is fully enclosed, has bumper rails the length of the slide, and bumpers at the end of the slide landing area to ensure no one slides directly onto the ground. With both the entry and exit on the same side of the obstacle, it makes it ideal for those supervising.
So, what are you waiting for?! Let's get those creative juices flowing with this Monstrous 120'+ Inflatable Obstacle Course Rental and call to book today!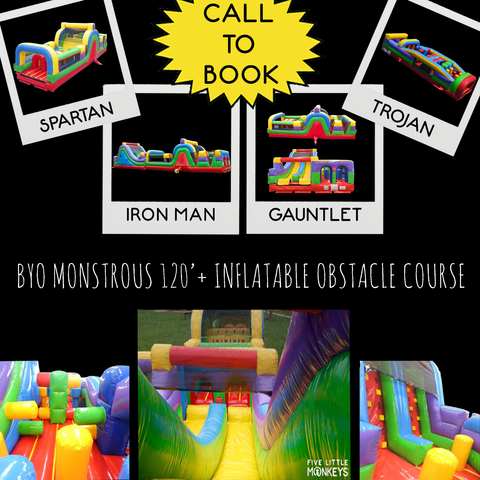 Safety is our top priority, above everything, EVEN FUN (sorry, kids!). This inflatable obstacle course rental includes a Watchdog Series 2 Blower Siren (to detect blower malfunction or other loss of air) and ASTM-approved, 2" thick, non-slip safety/landing mats (to create a safer area around the entrances/exits of your inflatable obstacle course rental), as well as 18" stakes to properly anchor your inflatable obstacle course rental - all free of charge! While we do our best to source the safest inflatable rentals, slips, trips and falls can occur, especially without proper supervision to ensure all Inflatable Safety & Operating Instructions are followed at all times.
Our flat fee of $29 includes delivery, professional setup and tear-down of your party rentals in Birmingham, Bloomfield Hills, Bloomfield Twp, Canton, Commerce Twp, Dearborn, Dearborn Heights, Farmington, Farmington Hills, Franklin, Garden City, Huntington Woods, Inkster, Lathrup Village, Livonia, New Hudson, Northville, Novi, Oak Park, Orchard Lake, Pleasant Ridge, Plymouth, Redford, Salem, South Lyon, Southfield, Walled Lake, Wayne, West Bloomfield, Westland, Wixom, and Wolverine Lake.