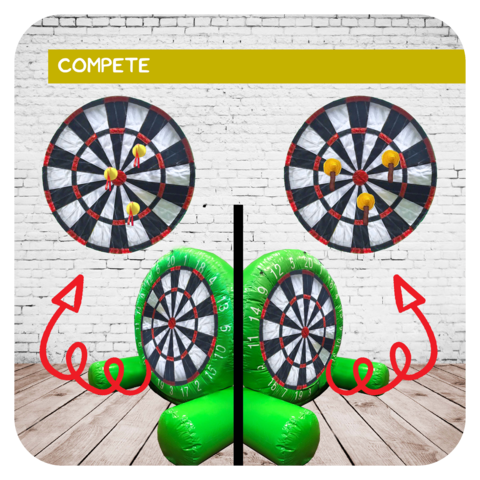 2-Sided Axes-n-Darts Inflatable Game
Actual Size: 6'Lx8'Wx6.5'H
Required Space: 20'Lx10'W
Outlets: 1
Age Group: All
Supervisors Required: 1 adult




Rent the 2-Sided Axes-n-Darts Inflatable Game, and let kids and adults alike compete for bragging rights!
This 2-sided version of our inflatable dartboard game is designed for four players, but is also perfect for those wanting to play in teams. Whether it's a group of adults in a dart league and with skilled one-arm form, or little ones trying to just get on the board and still learning a two-handed overhead throw, this 2-sided inflatable darts and/or ax throwing game is loads of fun! We provide the 2-sided inflatable dartboard, and you can select between foam/velcro throwing darts or foam/velcro throwing axes, or better yet you can choose both - 1-side ax throwing and 1-side throwing darts! And, at 6.5' tall, this awesome game is great indoors or outdoors!
Safety is our top priority, above everything, EVEN FUN (sorry, kids!). This interactive inflatable game will have users tossing foam/velcro axes at the dartboard, so to create a safe environment we ask the participants to stand behind the active player at all times and not on the sides of the unit.
So what are you waiting for? Let the whole family join in on some Super Darts or Ax Throwing fun (or both!) with our safe 2-Sided Axes-n-Darts Inflatable Game Rental!
Our flat fee of $29 includes delivery, professional setup and tear-down of your party rentals in
Birmingham
,
Bloomfield Hills
,
Bloomfield Twp
,
Canton
,
Commerce Twp
,
Dearborn
,
Dearborn Heights
,
Farmington
,
Farmington Hills
,
Franklin
,
Garden City
,
Huntington Woods
,
Inkster
,
Lathrup Village
,
Livonia
,
New Hudson
,
Northville
,
Novi
,
Oak Park
,
Orchard Lake
,
Pleasant Ridge
,
Plymouth
,
Redford
,
Salem
,
South Lyon
,
Southfield
,
Walled Lake
,
Wayne
,
West Bloomfield
,
Westland
,
Wixom
, and
Wolverine Lake
.