Bounce House Rental Safe Design
Shopping around for a Bounce House Rental for your event but are wondering which ones are safer than the others? Don't fret! Five Little Monkeys has created this page to help you understand what a safe design for a Bounce House Rental should be before you book!

Bounce House Rental safe design factors to look out for!
• Bounce House and Slide Combo Rentals with a contained landing area
• Inflatable Slide Platforms are covered on your Bounce House Rental
• Covered roofs are a must for Bounce House Rentals
• Bounce House Rentals with safe entrance and exit ways
• Bounce House and Water Slide Combos without a pool for the landing area
• Bounce House Rentals with proper ground anchoring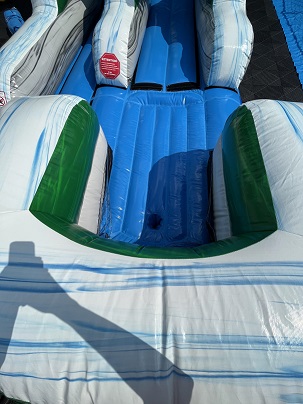 BOUNCE HOUSE AND SLIDE COMBO RENTALS WITH A CONTAINED LANDING AREA

When looking to book a Bounce House and Slide Combo Rental it is important to make sure the one you are planning to rent has an Inflatable Slide base as well as Inflatable containment walls. This is important so that your guests have a soft-landing spot and to keep them from sliding off the edge or end of the Inflatable Slide Rental.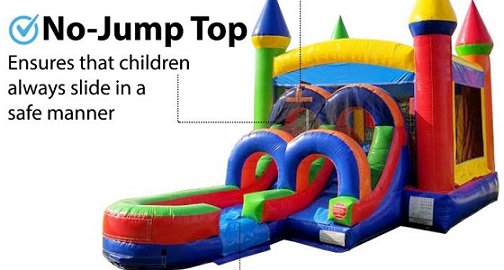 INFLATABLE SLIDE PLATFORMS ARE COVERED ON YOUR BOUNCE HOUSE RENTAL

Make sure that your Bounce House Rental has coverage over the slide platforms if it includes an Inflatable Slide portion. A lot of older Bounce House Rentals have open-slide platforms which puts the child at risk of either falling or jumping out/from the Inflatable Slide platform.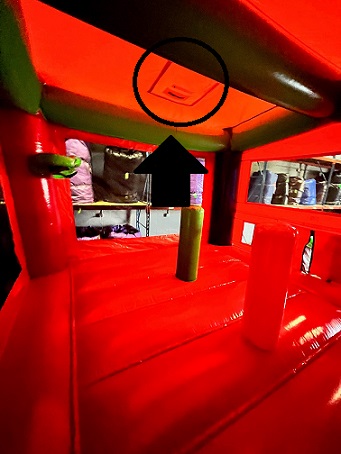 COVERED ROOFS ARE A MUST FOR BOUNCE HOUSE RENTALS

Bounce House Rentals should always have a covered roof with an emergency exit. Bounce House Rentals without a covered roof, make it easier and more tempting for your guests to try and climb out of the top of the Inflatable Rental.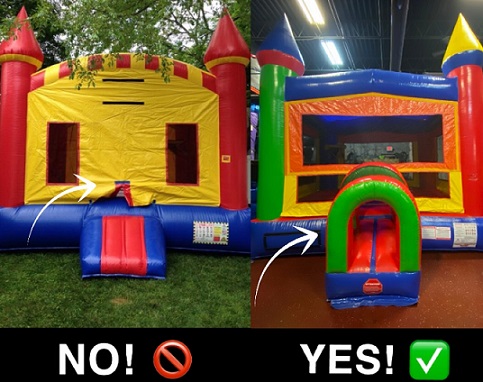 BOUNCE HOUSE RENTALS WITH SAFE ENTRANCE AND EXIT WAYS

Some of the older Inflatable Bounce House Rentals may not have an entrance or exit ramp at all which can be dangerous and unsafe. When shopping around for a Bounce House Rental make sure to look for tunnel entrances/exits. It is also important that safety mats are included with your Bounce House Rental to be placed at all the entrance and exit points.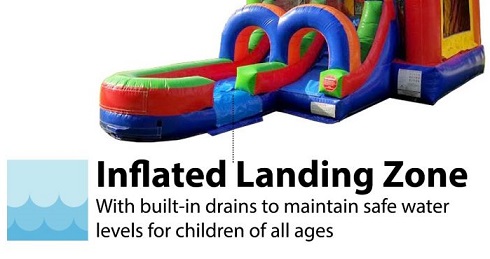 BOUNCE HOUSE AND WATER SLIDE COMBO RENTALS WITHOUT A POOL FOR THE LANDING AREA

When renting a Bounce House and Water Slide Combo it is highly suggested that it has a draining port to keep water accumulation inside the landing area to a minimum. With the landing area of your Bounce House and Water Slide Combo Rental being a pool/splash area for your guests to slide into, creates the risk of drowning.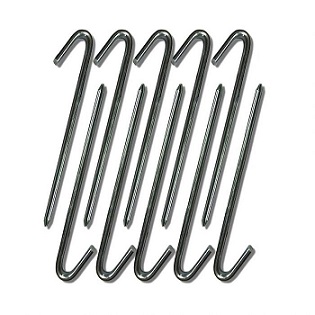 BOUNCE HOUSE RENTALS WITH PROPER GROUND ANCHORING

Every single anchor point on a Bounce House Rental must be secured. Some other Party Rental companies may try to save time by skipping a few anchor points which is a huge safety hazard! Your Inflatable Bounce House Rental should be anchored with a minimum of 18" steel stakes. You should not book a Bounce House Rental if they are being anchored with anything shorter than that!